Behind the Scenes: Creating the Jam-Stand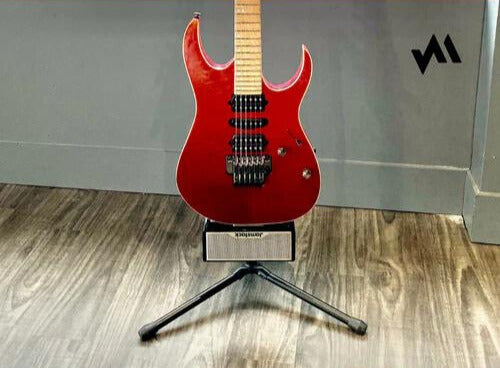 "...we weren't looking to re-invent the wheel, we wanted to perfect the axle." 
Most guitar players use a stand at home or on stage, and chances are, you already have one kicking around that is doing the trick just fine. All of our team members did. But when we started prototyping the Jamstack, we realized almost immediately that not all stands were created equal.
When it came to compatibility with the attachable function of the amp - to achieve true 'acoustic-level' accessibility - we would need to figure out a stand that could accommodate the unique shape of the instrument + Jamstack. Thus began our Goldilocks & the Three Bears adventure in creating a stand that was juuuuust right.
What do we mean by 'acoustic-level'?
At Jamstack, we have a vision of picking up your electric guitar and playing immediately, just as you would an acoustic. A simple thought in theory but tricky to pull off in practice. An amp that remembers where it left off, and wakes up on its own is a great start, but an amp that is connected to your guitar, not only provides the ultimate level of convenience, but portability, and accessibility. Cue the Jam-Stand. 
Where some stands rely on bottom brackets to hold the guitar, The Jam-Stand has a soft padded support bar (that is also height adjustable) that braces the back of the guitar, leaving room at the bottom of the stand for whatever shape your electric comes in + the Jamstack. The backrest ensures that no forces are being exerted on your beautiful guitar, and it works in concert with the neck bracket to provide the necessary amount of support and safety. 
We looked at locking ends, but found them to be unnecessary and more of a hassle than a help. We also made sure the Jam Stand's dimensions were highly adjustable, and that it could fold down nice and small for travel if needed. Design and development-wise, it's probably our simplest accessory 'cause we weren't looking to re-invent the wheel, we just wanted to perfect the axle.
Lastly, we priced the Jam-Stand to be competitive with any other quality stand on the market so you're getting a great deal on a great stand, whether or not you are the Jamstack-attached or a Jamstack-separate type.
Stay tuned for more insights on how and why we do what we do, and behind-the-scenes peeks into the decision making, developing, and design stages of each of our products. It's fun for me to get to share my day-to-day experiences, and I can't wait to hear your feedback when we get these in your hands!
Much love,
Chris 
Want to level-up your playing? Pre-order your Jamstack 2 amp today!