Finding Company in Backing Tracks | Jamstack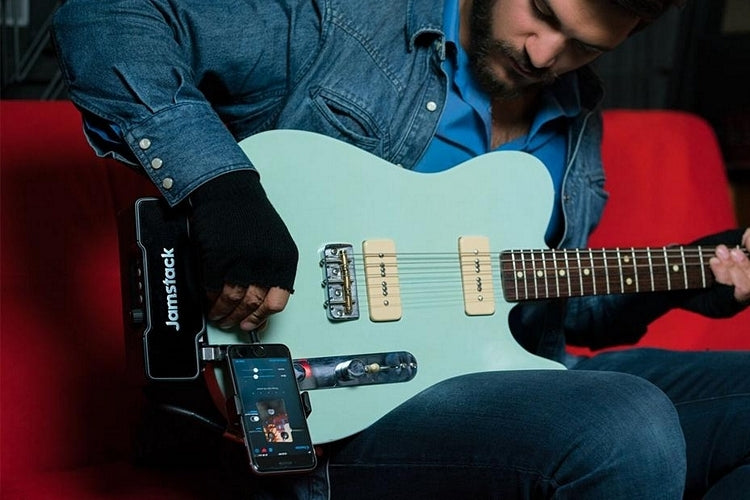 Technology brings the world to our fingertips like never before. Bringing our smartphone into our guitar technology sphere (see: Jamstack) means unlocking many new sounds, abilities, tools, resources and conveniences. 
With all that's going on in the world, we've lost the ability to play music with others quite like we used to - at least for now. One way we suggest beating the quarantine blues is to explore some of the great options for backing tracks you can play along to right off your phone.
Here are some of our suggestions for finding good backing tracks to play with, practice with, write with, or just let loose and improvise to…
Mega Backing Tracks.

MBT is a YouTube channel with almost 80k subscribers that specializes in "stylistic" backing tracks. That means you won't find any covers or interpretations of popular songs themselves, but rather a plethora of tracks done in the certain genre styles, and most often in the classic style of particular artists. We had fun putting some of the track on shuffle and trying out some on the fly scales and improv to these, trying to suit the change in style from track to track really pushes on to branch out, and challenges to escape pattern playing and relying on the 'same old tricks'. They also do a pretty good job at crafting songs that really do sound like they could be by that artist, and are fun to listen to.
Check out Mega Backing tracks here:
https://www.youtube.com/user/MegaBackingTracks
Free Guitar Backing Tracks" by Pop Music Workshop
Pop Music Workshop is an 'artist' on Spotify, but acts more like a 'channel'. It features many varieties of backing tracks and karaoke covers, so many in fact that their 'Free Guitar Backing Tracks' series can easily get lost in the mix if you wading through all of their uploads. The link we've chosen to share here was volume 15 of this series(out of 19 so far), one of our favourites; it features backing tracks from song by Rush, Slayer, Stevie Ray Vaughn, Soundgarden and more. With these tracks you get no vocals, and the main guitar track of the classic tunes(with 2nd guitar overdubs thrown in for extra fun). These track let you jam along with the band, where you get to be THE main guitar player, which is a really cool feeling. The track are well done, and over the series of compilation albums they cover a great variety of genres, artists, and classic tracks. Just do yourself a favour and put "free guitar backing tracks" in your spotify search, and then choose "see all albums". If you look directly at Pop Music Workshop's profile, you'll be scrolling thru pages and pages of karaoke songs looking for these guitar-centric tunes.
Check out Free Guitar Backing Tracks here:
https://open.spotify.com/album/389BDMCllokk2EhWtftHer?si=15uI76uzRKKzY0RLLKEmDg
Jamzone App


Jamzone is an app for your phone. Within it you can access their custom catalog of re-recorded versions of classic songs - a great tool for anyone on the 'cover band' scene. This may be a little more suited to working musicians for any large scale use - as every track you want will cost you a couple bucks - but we think that what you get out of that can be well worth it. Each song downloads the full stems(by instrument) for each song. So you can take the guitar out to play in its place, leave it in to play along with as a guide, or even solo it to isolate it, and pick it apart for learning purposes. You could take out just the drums for a more laid back acoustic feel of a song, or remove the vocals if you're doing the singing as well. You get a screen of fader to create your custom mix of each song, which can be adjusted on the fly. Not ending there, Jamzone displays real time tab/chord changes, and lyrics and you can also adjust the tempo and key of each track. A very handy app we had a lot of fun with.
Check out Jamzone here:
https://apps.apple.com/us/app/jamzone-learn-play-jam/id998972770

"Guitar Backing Tracks" Spotify Playlist


This is a playlist curated by one Neil D Santos has one of the best followings for its category on Spotify, and we can see why - thanks for putting this together Neil, whoever you are - we salute you. Being a playlist, you're getting a mix of different artists and styles that are here. Most of the tracks are stylistic in nature and the vast majority are labelled with their genre/style, tempo, and key. A great playlist to just let roll and play along with to work on rounding out your chops.
Check out Guitar Backing Tracks here:
https://open.spotify.com/playlist/5lthXOXhxhWEOFUJYaX9s5?si=0d1kflGgR5eXyZ97_kzgtg


"Ultimate Guitar" App


If you are into using guitar tabs on your mobile device, you've probably already made use of Ultimate Guitar. By far the leader for tab libraries, it's worth noting that this app doesn't end there. Many of their titles are also equipped with backing tracks. Some of these exist only as admittedly cheesy sounding midi versions, that may not hold up for live performances, but still serve well for practice and learning purposes - but a growing number of their tabs are also equipped with live recorded versions as well, and like the previously mentioned Jamzone app - both the midi and the live versions here are mixable base on the individual instruments in the song. If you're new to UG, them we do suggest checking it out for these purposes as well as tabs, as we think they under-advertise this feature a tad.
Check out Ultimate Guitar here:
https://apps.apple.com/us/app/ultimate-guitar-chords-tabs/id357828853


This short list highlights some of our favourite backing track resources, but it really is only the tip of the iceberg, as there are only more and more great tools emerging every day. We encourage you to try these, and keep exploring for more - and when you find some good ones, please let us know!
Happy shredding.
You may also like
Jamstack's Favourite Guitar Lesson Apps