Jamstack's Favourite Guitar Lesson Apps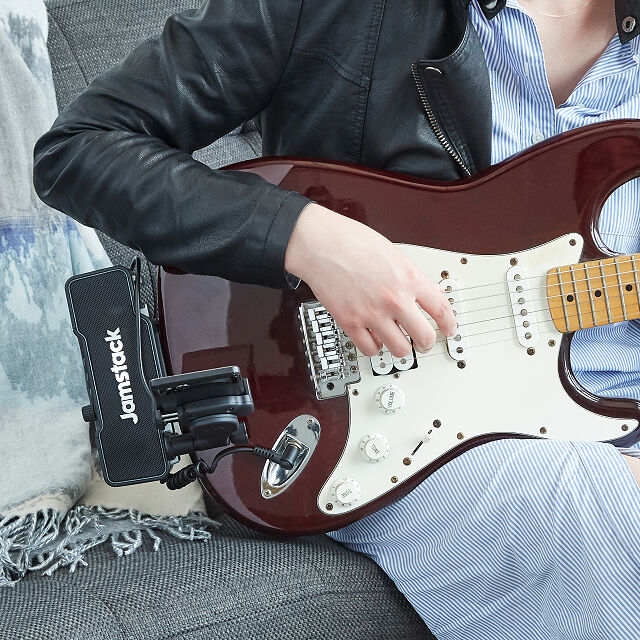 1. Uberchord
The key feature of Uberchord that sets it apart from the rest, is its advanced chord recognition abilities. Focusing on chords first is a great way for beginner players to get up and running playing songs. The real-time feedback will let you know what you are doing right and what you are doing wrong as you play.

Uberchord's song library is a hefty one, as they struck a licensing deal with Universal music in 2016. This means a large and varied catalog of fully licensed tracks to play along with!

A great addition to this is Uberchord's "strumming trainer", which acts as a unique method of making sure your strumming chops are falling where they should while you chord it out. Its visualizations are handy, and very easy to follow.

The app is free to download and try out, and a subscription will run you about $10/month.
2. Fender Play
Fender Play is an online video-lessons app. You can sign up for a 30 day free trial, after which you'll pay about $10/month, and you get 10% off Fender gear if you join. Fender Play is a bit more in-depth, and feels a little more like taking lessons from a real teacher. It's a lot like the other online guitar lesson platforms, and it's pretty simple - you learn by watching video lessons, organized into an easy to follow system. To get started you pick what instrument you want to learn (acoustic guitar, electric guitar, bass, or ukulele). Then you will pick what genre/style you want to focus on (folk, rock, blues, country, and pop). After you have made your choices, a lesson plan called "My Path" is created for you. From here, everything is quite simple - you navigate through your timeline, finishing the lessons laid out for you in your lesson plan.
The majority of the lessons teach overall playing concepts, and every once in a while they give you a song to put those concepts into practice. Your goal is to finish five levels of increasing difficulty. Each lesson is pretty short, mostly under 5 minutes. There is a "Skills" section, and there you will be able to find a variety of more advanced content.
3. Youcisian
The makers of Youcisian are also the makers of the extremely popular tuner app Guitar Tuna. Yousician are best known for their piano lessons, but in 2014 they also released the guitar learning section to their app. The app offers a 14 day free trial, after which you'll pay about $20/month to keep using it.



Yousician is a very fun way to learn, as it uses a "gamified" approach to the guitar. It does this by picking up the notes you are playing through your phone's microphone, or via a direct USB connection. If you are a complete beginner, or if you're someone who just doesn't connect with lessons via video, you'll likely find that it's a very enjoyable way to learn, perhaps even addictive. We tried it both acoustically, and connected via USB, and it performed pretty well both ways. The iPhone's mic does a good job capturing the notes we played, but could be messed up by background noise, and the USB connection seemed rock-solid. Yousician is a good way to improve your timing and accuracy, as to score points and get through the exercises/songs, you need to pick all the right notes at the right times. It feels a lot like playing the Guitar Hero or Rock Band games, but with a real guitar instead of a little toy controller. A virtual fretboard is shown on screen, which moves along while a backing track is played, and the app tells you which notes to play. The notes turn green when you hit them and turn red when you miss. If you find exercise too challenging at full speed, you can try it in "Practice Mode" where it lets you slow things down and start over as many times as you need until you are ready to try it at full speed again. When you pass a level, you're awarded stars for accuracy and points. All of the content is organized into a plan, and it contains paths which go from Level 0 to Level 10. 


Every module has exercises, some of which are just videos you watch, but mostly it's the video game-style play alongs. Outside of the Yousician's primary structure, the app does have additional sections you can explore. It takes a bit of poking around to find what will be useful for you, but we encourage you to do so. Overall we quite enjoyed this app, the challenge introduced by Youcisian's gamified approach is both fun and rewarding, particularly if for beginners, or for kids.